I have to admit, I'm knackered. It's actually surprising just how much effort is involved in organising these things! Anyway, the hardest bit is now over…all that's left is the jury and the prize giving.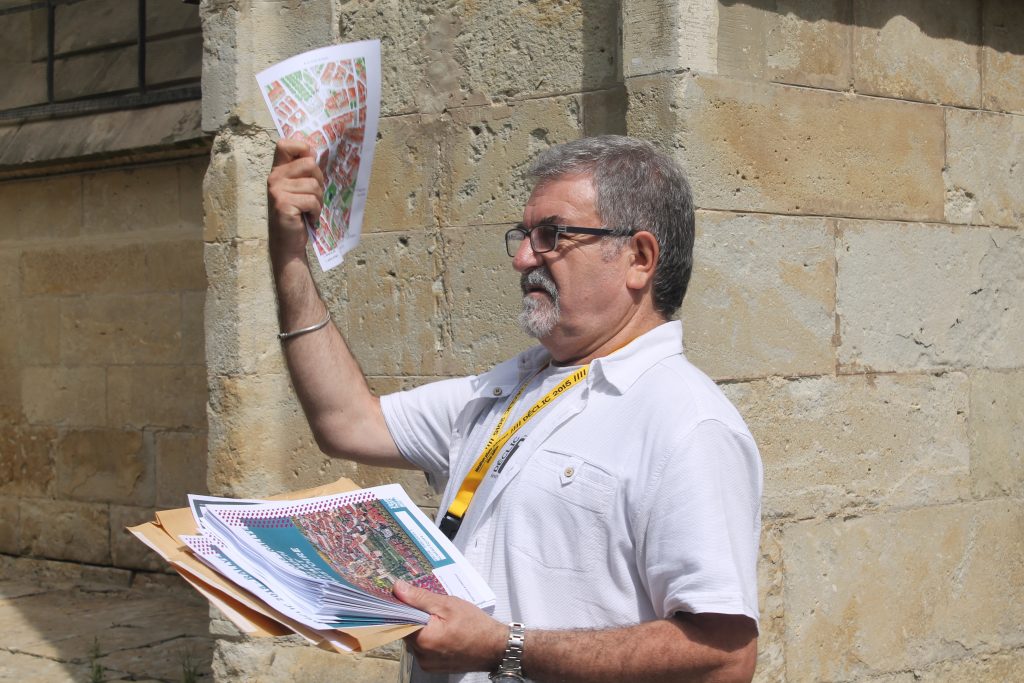 This is someone trying desperately to sell the themes – without any success – to passers by.
The morning started well with 86 participants in the BIJ waiting for the 'off' at 10h. I have to do a little speech, explaining things etc. etc. (which apparently that went ok) and at 10h the first theme was splashed up on the video-projector.
Everybody had to meet at the Cathedral in Auch so we all set off and climbed up to the top of the town – and at 10h20 I divided the 86 participants into 2 groups – one group disappeared with a guide, and the other group were given information to follow a little 'parcours' at the top of the town to visit things they might not know even existed. What the second group didn't know initially was that the first group were having a guided tour of the inside of the Cathedral.
At 11h30 the two large groups changed and the whole thing started again – with people moving back towards to BIJ to download their images and eat (very important!) at 13h
We all ate together in the concert hall – we provided the drinks (we even had a keg of beer!) and the participants brought their own lunches.
At 14h the third theme was announced on the video-projector and they all went off out again. Everyone had to remember to meet at Ciné32 at 15h20 – where I announced the fourth and  final theme – « Follow me » I said, and they did…into a circus tent where I had organised a demonstration by a group of local circus artists. This went down very well and at 16h30 we were all back at the BIJ for the last round of downloading.
After the last images had been transfered, we started the diaporama which showed all of the 559 images, one after another.
Everybody seemed to enjoy what we had organized – which of course just makes it more difficult for next year (!) – but I'm happy to say we had the most participants (86), the broadest age range (7 – 77years old) and the most images – 559.  Looking at the initial albums there's a lot of good work….I can't help thinking the jury is going to have it's work cut out tomorrow!