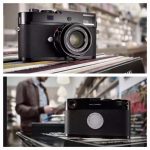 Firstly I must state that I have a huge respect for blind people, and the people who help them – as a photographer I understand how crushing it must be to lose a sense, and can only imagine what it must be like to try to live in todays complicated world.
This said, I do think that it's a bit of a piss-take on the part of Leica to bring out the Leica M-D (Typ 262) This is a 'modern' digital rangefinder with a state-of-the-art full frame 24mp sensor – but it seems it has been designed for a minority group – the blind.
So why am I led to think this? Well, when I've taken my picture and I take the camera away from my eye to have a look at the result on the rear screen, well, I can't – they forgot to build one in. You would be forgiven for thinking that for the price of 5900€ (Body only) they could have included a screen, but no – Leica have decided, in their wisdom, that 'real' (Ken Rockwell?) and / or blind photographers don't need a screen.
Is it any wonder that these people are in a 'niche' market…?