I'd had a few Billingham bags, over the years, and one thing that is impressively constant – the build quality.
I purchased my first Billingham bag in 1979 just after they came onto the market in the UK. I was living and working abroad and went to Leeds Camera Services in London with three large supermarket bags full of different camera gear, and asked if they had any camera bags that didn't look like camera bags. I came away with my first one that day.
Since then, they've come and gone, with one of my most recent purchases the Billingham Hadley (Small Pro? No idea) which I use exclusively for my NIKON Z6ll and it's associated f/4 lenses when I'm on my holidays. Everything fits – it's waterproof, and protects my stuff.
I've started carrying a small bag – wallets, telephones, keys, and other dross which one likes to have available, is just getting too much for my trouser pockets, so I've been having a look around the Billingham site. The model that caught my eye was the Stowaway – of which there are three – the Airline, the Compact and the Pola – they are all the same price, and more or less the same sizing, some more square than others…I chose the Airline as it was the taller of the three – my Ulanzi table top tripod and ball head fits perfectly – even if this was NOT intended as a camera bag…
Obviously the only bag size/colour combination I wanted wasn't available in France/Europe so I decided to order directly from the UK – BIG mistake. Yes, they take OFF the VAT, but then UPS declare the package at French customs so you pay the French TVA but ALSO a 25€ fee for doing (essentially nothing as it's all done by computer) the 'work'. So yes, you have to WANT one of these buggers if you go that route…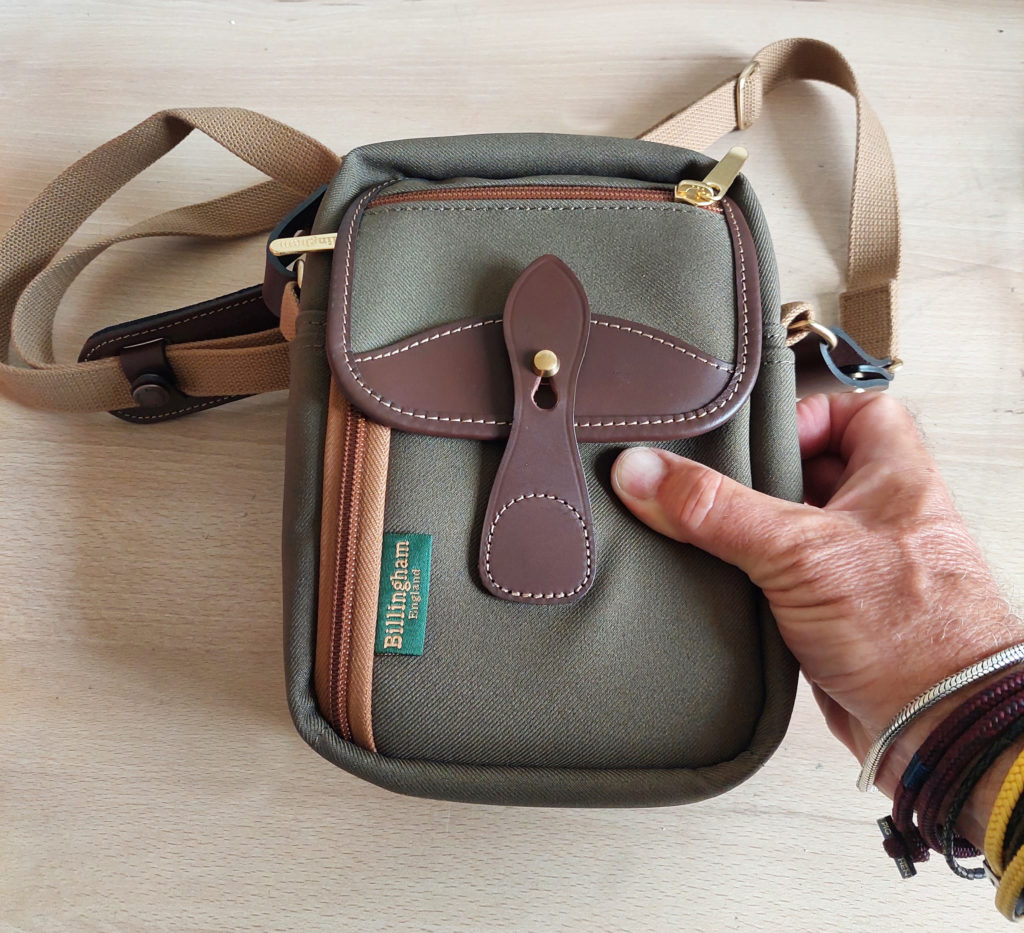 This image seems elongated – click on the picture to see a correct representation
This is it, and it fits EVERYTHING I think I need at hand – beautifully made – and waterproof – I've decided to sleep with it by my side. It'll be a whole lot better after a few months when things start 'wearing in'. The Billingham Airline Stowaway in all its glory !