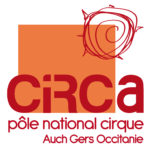 Since 2012 I've been involved with CiRCa here in Auch – the local association that develops circus in all it's forms. I have taken photographs at a number of spectacles/performances but I concentrate on the artists 'in residence' who come and spend from a week to a whole month, in Auch, developing their art.
The CiRCa web site doesn't actually have a 'photos' part – they just give links to my site! (Much easier for them – they have nothing to do – my site is, after all, fairly well organized for that sort of thing.) I also have a regular/permanent exhibition in the Cant'Auch, the restaurant on the CiRCa site.
Anyway…the people at CiRCa have finally decided to create a blog, and I was pleasantly surprised to discover an article…about me!
If you follow this link you'll see what I saw…hope your French is up to it!
I'm sorry if this seems akin to trumpet blowing, but it's so rare – and as it transpires, it's actually the very first article on the new blog – praise indeed.
Oh, if you weren't aware, the CiRCa site is actually something to see…