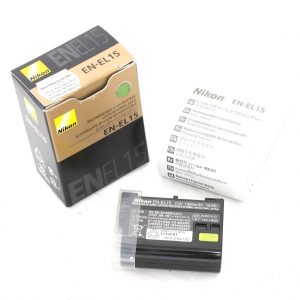 Strange things seem to be happening with older versions of the EN-EL15 battery (D800, D750, D610 etc.) with the D500 camera and, for once, Nikon are doing something about it.
The problem seems to be that with the launch of the D500 Nikon decided to modify certain calculations performed in the battery electronics and as such, only the more recent batteries would show correct charging values on the D500 – this is the only camera body effected. It's easy to check if your battery will have potential problems – on the battery label « Li-ion » is printed just above the serial number. If this is « Li-ion20 » you don't have a problem – any other number is an earlier battery could exhibit problems with the D500.
The solution is actually quite radical – anyone with proof of ownership of a D500 (A bill, for example) can simply send their EN-EL15 to Nikon who replace them free of charge. ALL their EN-EL15 batteries – I have 5, so I contacted the SAV at Nikon France and they reassured me that, yes, I could send 'em all in for replacement. This is actually quite handy as some of my batteries date from 2011 and any battery gets old…so now I have 5 brand new batteries dating from 2016.